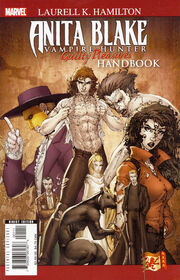 Publisher's Blurb
Edit
Everything you ever wanted to know about Anita Blake! This is your chance to learn all about the Laurell K. Hamilton's famous vampire hunter in the first Anita Blake novel in the series, Guilty Pleasures. Meet all the creatures and characters who appeared in Guilty Pleasures and learn about their power, origins and place in the Anita Universe. This very first guide book into the world of Anita Blake is written in the tradition of the Marvel handbook and featuring the wonderful art of fan favorite Brett Booth.
Ad blocker interference detected!
Wikia is a free-to-use site that makes money from advertising. We have a modified experience for viewers using ad blockers

Wikia is not accessible if you've made further modifications. Remove the custom ad blocker rule(s) and the page will load as expected.