About
Anita Blake, Vampire Hunter is a series of fictional works set into a fantasy world parallel to our own, where vampires, shapeshifters (including lycanthropes such as werewolves), faeries, etc. exist, where humans can have a wide variety of psychic and magical abilities from clairvoyance to re-animating the dead, and where faith causes religious items to glow in the presence of active vampire powers regardless of the religion. This parallel world is complex and ever-changing, as the relationships and power structures evolve and we learn more about the numerous subgroups.
In the middle of all of this is Anita Blake, the heroine of the series, who tries to figure out her own life and relationships while doing her part to keep the people safe from the monsters -- and, when the situation calls for it, the monsters safe from the people and/or each other.
The series consists of a long list of novels, a number of short stories in various formats, and Dabel Brothers/Marvel Comics adaptations of the first novels.
NOTE: The series frequently contains explicit violence, harsh themes, and detailed sexual encounters that do not always fit within the golden rule of 'safe, sane, and consensual'. This reflects to some extent to the articles within this wiki. Be warned.
Categories
Featured Article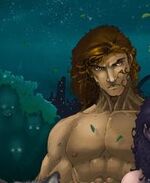 Richard Zeeman is tall, handsome, and athletic. He teaches science at a junior high school, is kind and helpful to people and animals alike, and loves outdoor activities such as hiking. In other words he is the world's biggest Boy Scout, as Anita Blake likes to call him. The only things missing from his life are a lovely wife and the whole nine yards, complete with a picket fence, and what woman or a mother-in-law wouldn't wish for such specimen as a groom? He even has a nice family full of nice people just like him.
Unfortunately, that's not everything Richard is. Due to sheer bad luck he has found himself smack in the middle of preternatural politics and power struggles, and he does not want to be there. He likes his new friends just fine and is willing to go to great lengths to protect them, but he hates what he has become, and hates the archaic and violent customs that surround his new existence. He believes in democracy and good will among people, and chafes against any hierarchy that places the strong high above the weak. And most of all he hates the new urges for violence he has discovered in himself.
He is strong-willed. He is powerful. He is righteous and persistent. He could go far, if he could just get over himself...

Refresh page to see new article...
Monthly Poll
Hot summer days are best for...
Propose a new poll HERE.
---
The polls are back! You can find the previous polls here


Thank you for voting, and be sure to check back for our next poll!
The 26th novel, called Serpentine, is now scheduled to be released on Aug 07, 2018. HERE!
The 26th novel has been postponed by a year to June, 2018.
The short story A Girl, a Goat, and a Zombie was removed from Laurell K. Hamilton's site on Dec 9, 2016, but it might return some day.
The 26th novel is rumored to be out in June, 2017.
A new short story, A Girl, a Goat, and a Zombie, was available for free on Laurell K. Hamilton's site for a short time since Nov 3, 2016. HERE!
Wounded, an extended epilogue to Dead Ice that was included in the paperback edition, was released as an eBook on Dec 6, 2016. HERE!
Crimson Death, the 25th novel in the Anita Blake, Vampire Hunter series, was released on Oct 11, 2016. HERE!
Facebook